To export the building models with deformations to the VR platform Vega, an OpenFlight model is added as an object to Vega automatically as follows:
1) Set up a data set pointer vgDataset, link to an OpenFlight model;
2) Set up an Object pointer which links to vgDataset;
3) Set up the associated attributes for an Object.
By employing this method, an OpenFlight model can be added to Vega as an Object automatically.
5 Simulation of Earthquake-induced Fire
A specified particle system is employed to simulate the earthquake-induced fire as follows:
1) Specify the particle type as stream;
2) Specify the color of the particle as red, yellow and white gradually;
3) Take the fire as no gravity object;
4) A spreading model which was developed by the authors should be followed to simulate the spreading behavior of the earthquake-induced fire[10].
The simulation result is shown in fig. 6.
6 Integration of GIS, CAD and VR View Port
A GIS system provides strong 2D graphic inquiry functions and spatial analysis functions but without 3D immersing functions, A VR system provides 3D immersing functions, but its graphic inquiry function is weak, so the user may be lost in a 3D immersing environment. Hence this work proposed an integrated GIS, CAD and VR environment to solve the problem. The output window is firstly separated into three sub-viewports, a CAD viewport, a GIS viewport and a VR viewport. And the location of current view point in VR environment is linked with the corresponding location in GIS map and CAD model. So when the user moves in the VR immersing environment, his currently location will also show on the GIS map and the CAD model, so as to simplify the position finding. At the same time, if the user selects a position in the GIS or CAD viewport, the VR viewport will also move the view point to the selected point. The integrated interface is shown in Fig. 7.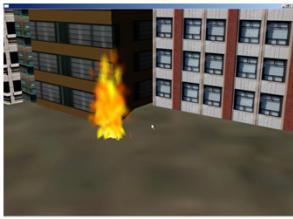 Fig. 6 Simulation of earthquake-induced fire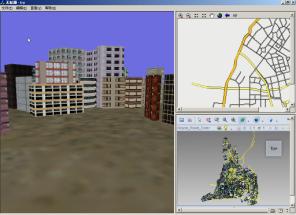 Fig. 7 The integrated interface
7 Conclusions and Future Work
This paper presents an integrated urban earthquake simulation system (UESS) that uses GIS as the model source, CAD as the model generating tools, FEA for structural simulation and VR as the simulation platform. The primary application of UESS shows that the system is feasible. Further work will be done to give more accurate structural model, more realistic display representations, and the integration with rescue and evacuation functions. Evacuation functions have
been developed by other graduates in our group which will be presented in other papers.
Acknowledgement
The research presented in this paper was funded by the National Key Project of Scientific and Technical Supporting Programs by Ministry of Science & Technology of China (2006BAK01A02-09). The authors sincerely thanks for the support.
References
[1] Germs R, Van Maren G, Verbree E, Jansen F W. A multi-view VR interface for 3D GIS. Computers & Graphics, Aug.1999, 23(4):497-506.
[2] Hutchinson T C, Kuester F, Tung-Ju Hsieh, Chadwick R. A hybrid reality environment and its application to earthquake engineering, IEEE Virtual Reality, Mar.2004:229-230.
[3] James L. Sipes, CAD and GIS Integration. Cadalyst, July.2004:42-46.
[4] Chen Xuping. A GIS, CAD and VR integrated urban earth quake simulation system [Dissertation]. Beijing: Tsinghua University, 2007. (in Chinese)
[5] Yao Jialiang, Tawfik, Hissam, Fernando, Terrence, A GIS based virtual urban simulation environment, Computational Science ¨C ICCS 2006, May.2006, 3993:60-68.
[6] Berta J. Integrating VR and CAD, IEEE Computer Graphics and Applications, 1999, 19(5):14-19.
[7] VegaProgrammer's Guide. USA:Multigen Paradigm, 2001.
[8] Yin Zhiqian. Analysis of losses due to earthquake and resistance standard. Beijing, China: Earthquake Press, 2004.
[9] Yin Zhiqian. Earthquake disaster and prediction of losses due to earthquake. Beijing, China: Earthquake Press, 1996.
[10] Ren AZ, Xie XY. The simulation of post-earthquake fire-prone area based on GIS. JOURNAL OF FIRE SCIENCES, Sep.2004, 22 (5): 421-439.