References
[1] M.V. Biezma, F. Schanack, Collapse of steel bridges, J. Perform. Constr. Facil. ASCE. 21 (5) (2007) 398–405.
[2] K. Wardhana, F.C. Hadipriono, Analysis of recent bridge failures in the United States, J. Perform. Constr. Facil. ASCE. 17 (3) (2003) 144–150.
[3] S. Hao, I-35W Bridge collapse, J. Bridge Eng. ASCE. 15 (5) (2010) 608–614.
[4] A. Cavicchi, L. Gambarotta, Collapse analysis of masonry bridges taking into account arch-fill interaction, Eng. Struct. 27 (4) (2005) 605–615.
[5] G.A. Drosopoulos, G.E. Stavroulakis, C.V. Massalas, Limit analysis of a single span masonry bridge with unilateral frictional contact interfaces, Eng. Struct. 28 (13) (2006), 1864–1873.
[6] P. Kumar, N.M. Bhandari, Non-linear finite element analysis of masonry arches for prediction of collapse load, Struct. Eng. Int. 15 (3) (2005) 166–175.
[7] A. Thavalingam, N. Bicanic, J.I. Robinson, D.A. Ponniah, Computational framework for discontinuous modeling of masonry arch bridges, Comput. Struc. 79 (19) (2001) 1821–1830.
[8] M. Talaat, K.M. Mosalam. Modeling progressive collapse in reinforced concrete buildings using direct element removal, Earthq. Eng. Struct. D. 38(5) (2009) 609–634.
[9] X.Z. Lu, N. Yang, J.J. Jiang, Application of computer simulation technology for structure analysis in disaster, Autom. Constr. 13 (5) (2004) 597–606.
[10] K.M. Lynn, D. Isobe, Finite element code for impact collapse problems of framed structures, Int. J. Numer. Meth. Eng. 69 (12) (2007) 2538–2563.
[11] A.L.Y. Ng, R.G. Beale, M.H.R. Godley, Methods of restraining progressive collapse in rack structures, Eng. Struct. 31 (7) (2009) 1460–1468.
[12] S. Marjanishvili, E. Agnew, Comparison of various procedures for progressive collapse analysis, J. Perform. Constr. Facil. ASCE. 20 (4) (2006) 365–374.
[13] X. Lu, X.Z. Lu, W.K. Zhang, L.P. Ye, Collapse simulation of a super high-rise building subjected to extremely strong earthquakes, Sci. China Technol. Sc. 54 (10) (2011) 2549–2560.
[14] F. Fu. Progressive collapse analysis of high-rise building with 3-D finite element modeling method, J. Constr. Steel. Res. 65 (6) (2009) 1269–1278.
[15] Z. Xu, X.Z. Lu, H. Guan, X. Lu, A.Z. Ren, Progressive-collapse simulation and critical region identification of a stone arch bridge, J. Perform. Constr. Facil. ASCE. 27 (1) (2013) 43–52.
[16] MSC Software, User subroutines and special routines (Volume D), MSC Software, Santa Ana, California, USA, 2012.
[17] ANSYS Inc., ANSYS advanced analysis techniques guide, ANSYS Inc., Canonsburg, PA, USA, 2011.
[18] Dassault Systèmes, ABAQUS analysis user's manual (Volume IV), Dassault Systèmes, Providence, RI, USA, 2011.
[19] M. Müller, L. McMillan, J. Dorsey, R. Jagnow, Real-time simulation of deformation and fracture of stiff materials, Proc. Eurographics Workshop on Animation and Simulation 2001, Springer Vienna, 2001, pp. 113–124..
[20] E.G. Parker, J.F. O'Brien, Real-time deformation and fracture in a game environment, Proc., 2009 ACM SIGGRAPH/ Eurographics Symposium on Computer Animation, ACM, New York, NY, USA, 2009, pp. 165–175.
[21] S. Raghavachary, Fracture generation on polygonal meshes using Voronoi polygons, ACM SIGGRPAH 2002 Conference Abstracts and Applications, ACM, New York, NY, USA, 2002, pp. 187–187.
[22] D. Mould, Image-guided fracture, Proc., Graphics Interface 2005. Canadian Human-Computer Communications Society, Waterloo, Ontario, Canada, 2005, pp. 219–226.
[23] M. Pauly, R. Keiser, B. Adams, P. Dutré, M. Gross, L.J. Guibas. Meshless animation of fracturing solids, ACM T. Graphic. 24 (3) (2005) 957–964.
[24] A. Nealen, M. Müller, R. Keiser, E. Boxerman, M. Carlson, Physically based deformable models in computer graphics, Comput. Graph. Forum. 25 (4) (2006) 809–836.
[25] A. Boeing, T. Bräunl, Evaluation of real-time physics simulation systems. Proc., 5th International Conference on Computer Graphics and Interactive Techniques in Australia and Southeast Asia, ACM, New York, NY, USA, 2007, pp. 281–288.
[26] I. Millington, Game Physics Engine Development (The Morgan Kaufmann Series in Interactive 3D Technology), Morgan Kaufmann Publishers Inc., San Francisco, CA, USA, 2007.
[27] G. Esch, M.H. Scott, E. Zhang, Graphical 3D visualization of highway bridge ratings, J. Comput. Civ. Eng. ASCE. 23 (6) (2009) 355–362.
[28] B. Morten, C. Stephane, Real-time volumetric deformable models for surgery simulation using finite elements and condensation, Comput. Graph. Forum. 15 (3) (2003) 57–66.
[29] J.F. Remacle, N. Chevaugeon, É. Marchandise, C. Geuzaine, Efficient visualization of high-order finite elements, Int. J. Numer. Meth. Eng. 69 (4) (2007) 750–771.
[30] OSG Community, OpenSceneGraph, http://www.openscenegraph.org/projects/osg/ 2010.
[31] Havok, Havok physics, http://www.havok.com/products/physics 2010.
[32] Game Physics Simulation, Bullet physics library, http://www.bulletphysics.com 2010.
[33] NVIDIA Corporation, PhysX, http://www.nvidia.cn/object/physx_new_cn.html 2010.
[34] B. Lam, I. Stavness, R. Barr, S. Fels, Interacting with a personal cubic 3D display, Proc., 17th ACM International Conference on Multimedia, ACM, New York, NY, 2009.
[35] W.M. Ma, E. Chow, W.S. Tommy, A new shifting grid clustering algorithm, Pattern Recogn. 37 (3) (2004) 503–514.
[36] A.H. Pilevar, M. Sukumar, GCHL: a grid-clustering algorithm for high-dimensional very large spatial data bases, Pattern Recogn Lett. 26 (7) (2005) 999–1010.
[37] G. Van Den Bergen, Efficient collision detection of complex deformable models using AABB trees, Journal of Graphics Tools. 2 (4) (1997) 1–13.
[38] X. Lu, X.Z. Lu, L.P. Ye, S.T. He, The components importance evaluation and overload induced collapse simulation for RC arch bridges, Computer Aided Engineering, 19 (3) (2010) 26–30 (in Chinese).
Table 1 Evaluation of the rendering performance of the proposed method
Study case

Case 1

(Stone bridge)

Case 2

(RC bridge)

Total number of finite elements

60,320

26,375

Total number of deactivated elements
(i.e., number of fragments)

51,101

7,233

FPS without using the proposed method (i.e., each fragment is represented by an Actor and a Geode)

0.8

11

Total number of fragment clusters

4,086

1,012

FPS using the proposed method

20

62
Table 2 Evaluation on the accuracy of the proposed method
Study case

N*/Nf

( =0.3 m)

N*/Nf

( =0.2 m)

N*/Nf

( =0.1 m)

Case 1

(Stone bridge)

99.91%

98.37%

96.53%

Case 2

(RC bridge)

100.00%

99.93%

97.32%
Fig. 1. Photo of a real bridge collapse

Fig. 2. Results of FE analysis for a bridge collapse

Fig. 3. Active elements and deactivated elements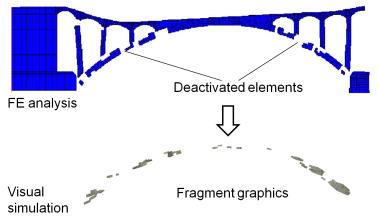 Fig. 4. The transformation from deactivated elements to fragment graphics
Fig. 5. Technical flow chart of the fragment simulation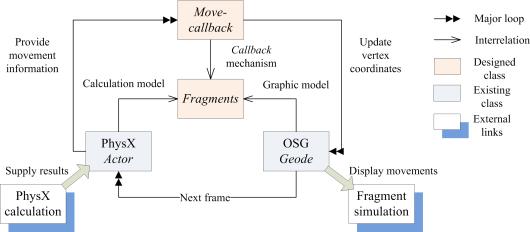 Fig. 6. Integrated OSG and PhysX technique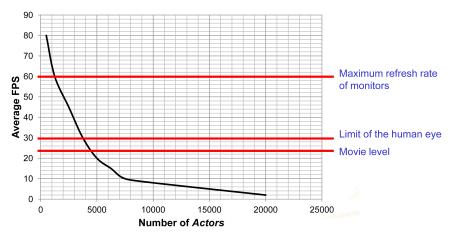 Fig. 7. The relationship between average FPS and the number of Actors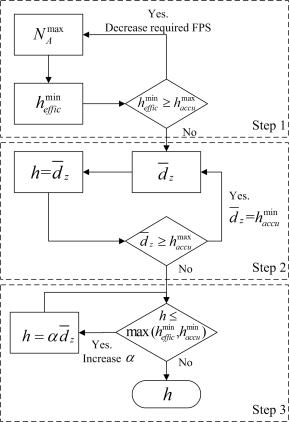 Fig. 8. Algorithm to determine the dimensions of the Basic Grid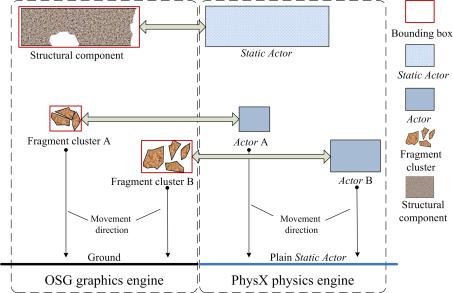 Fig. 9. Modeling method for the shapes of Actors

Fig. 10. Conventional FE result (t=1.68s)

Fig. 11. Visual simulation with fragment details (t=1.68s)

Fig. 12. Conventional FE result (t=3.36s)

Fig. 13. Visual simulation with fragment details (t=3.36s)
Fig. 14. Conventional FE result (t=5.52s)
Fig. 15. Visual simulation with fragment details (t=5.52s)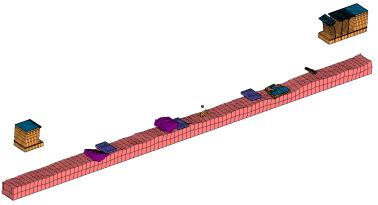 Fig. 16. Debris in the conventional FE results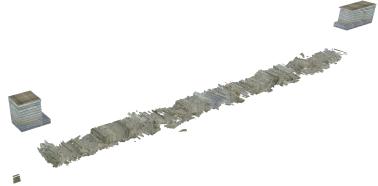 Fig. 17. Debris in the visual simulation with fragment details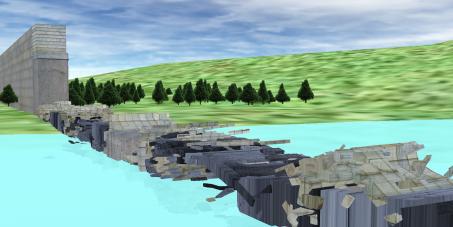 Fig. 18. Virtual debris scenario from the visual simulation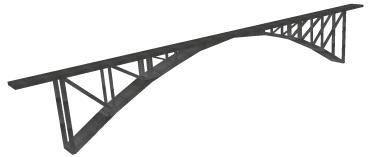 Fig. 19. Original bridge of RC bridge
Fig. 20. Early stage of collapse (Red: fragments)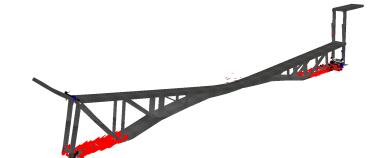 Fig. 21. Intermediate stage of collapse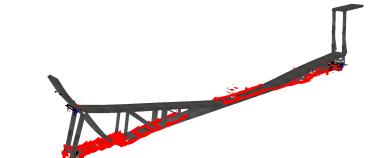 Fig. 22. Final stage of collapse
---
---